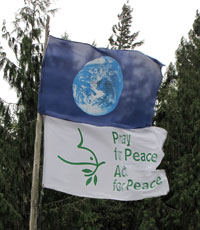 Happy New Year and on to a Fantastic 2010!
New Year's Eve/Weekend 2009/2010
Greetings to All–
It's seasonally cold and rainy as I sit here on this lingering afternoon of a predictably soggy New Year's Eve, and my durned satellite internet connection is down. Again. I have a couple of hours before I need to get ready to go to a restaurant/bar named "Nicki's," where I'll be house drummer for New Year's Eve.
What a perfect opportunity to begin fulfilling the promise I made to myself to write a rear-view reflection on how life has transpired in and around Rangerville this past year. Besides, at my advancing age, how else might I remember?!
The most momentous and fun event occurred when Belinda, my long-time Lady Coyote, moved back into residence in September. Although we still have a plethora of moving boxes scattered here and there (a predictable side effect of combining households), we're confident we'll eventually get them sorted out. It's been quite a different scenario from our previous living-together experience, which included Belinda's three youngest children. So far it's been great fun, and we don't expect that to change any time soon. Hopefully never.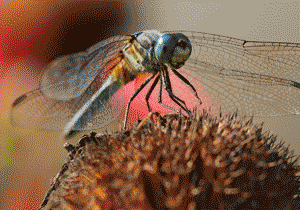 Belinda continues to nurture her love of all-things-photographic, and takes full advantage of the seemingly ever-present opportunities to produce exceptional images that reflect her ability to see the art in the ordinary. She's especially gifted at close-up photography (aka "macro" in photo-geek speak), with an emphasis on entomology.
I've never before known anyone who could make a bug look beautiful, but Belinda most certainly possesses the gift. To see her photos of amazing arthropods, click here. For you squeamish insectophobic folks, her equally evocative, bug-free photos can be viewed here.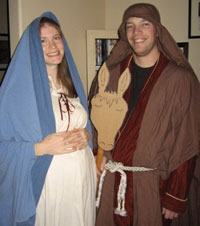 Belinda's kids are all doing great, as well, each grown up and involved in lives of their own. Eldest son, Greg, and his wife, Wendy, are even due to provide Belinda with her first grandchild, sometime near the first of February!
Greg continues to enjoy his job with a commercial painting company, and Wendy excels in her position as CPA for an accounting firm in Bellingham. (Did they have an appropriate Halloween costume this year or what?! Oh, and Greg's middle name is Joseph...)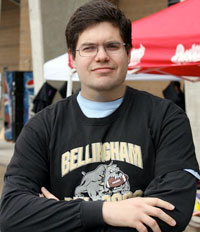 Keith is back to work at Fred Meyer after a forced hiatus due to breaking his ankle a few months ago. He's also involved with sports announcing, operating the scoreboard and keeping stats for a variety of local athletic teams, including Bellingham's semi-pro basketball team, The Slam.
His dream is to become a professional sports writer / announcer / statistician; he's not picky as to which one. And, though Keith always excels in his fantasy football league, he made it to the finals this year. However, like his favorite Seattle pro sports teams, Keith says he "had a crushing defeat in the finals."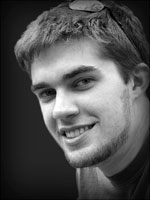 Eric spent the previous summer touring Alaska in his Honda, which sounds like great fun. He's now working in Bellingham as a repair person for scanning devices, as well as taking online college classes.
Having previously worked for Apple Computer and Real Networks, he's planning to move back to Seattle with more education under his belt, and get rehired by one of the mega computer/software corporations, at an above-entry-level capacity.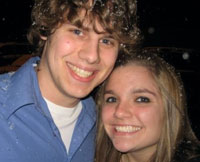 Teresa has been finishing up her 2-year transfer degree at Whatcom Community College while simultaneously working three part-time jobs. (Oh, to be young again!) She is hoping to get accepted to Western Washington University where she will complete her degree in Hospitality and Event Planning.
As if her plate was not already full enough, she also became engaged to her boyfriend Kevin, who is the computer tech for the Whatcom County Boys and Girls Clubs in Bellingham.
As I write, I'm listening to music via iTunes as it shuffles through my 10,000+ song library. As kismet would have it, the tune that just began playing is a recording of a 2008 radio show featuring the previous rendition of the Poor Man's Jug Band including Coyote George. Sadly, we lost our long-time friend and fellow musician, Coyote George, soon after that show aired.
Remembrance and nostalgia aside, we resurrected the Poor Man's Jug Band this year to back up a phenomenal young singer/songwriter/guitar picker, Clarence Gallagher. As the actual jug band we are... musical saw master, George Jay; gut-bucket bass player, Gary Sparrow; and me on washboard, etc. Alas, we are still too poor to buy a jug...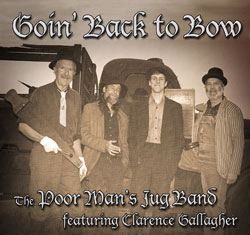 The four of us taped two radio shows at the nearby Skagit Valley College this year, which resulted in our recent CD release, "Goin' Back to Bow." We've also played a few other great venues, by far the best being Mt. Vernon's Lincoln Theatre. We opened for the internationally renowned celtic band, The Paperboys.
Tom Landa, who heads up the band, was gracious enough to actually let me play onstage with them for one song. I don't know if it was because I was the show director or because he was so astonished that my 'rub bear' instrument I use for zydeco, cajun and rock was so different from the washboard I played with the jug band. All in all, it was a gala musical event featuring over 25 area musicians, celebrity guest announcers, and a grand entrance by all dancing and singing down the aisles to begin the festivities.
The event was organized as a benefit for the non-profit Rick Epting Foundation (REF). This year, I became a member of the Board of Directors of REF, and also was the director for the Lincoln Theatre show. (BTW, the REF is actively soliciting applications for 2010 grants by artists and musicians. If that's you, or if someone you know might qualify, send them to the REF website.
The Lincoln show was an exhausting amount of work, but immensely gratifying. We had a nearly sold out show and, equally important, the reviews were great! The embedded YouTube video link is the first of the Poor Man's Jug Band songs from the Lincoln Theatre event. However, another one we did that night, the "Chicken You Can Roost Behind the Moon," is my personal favorite.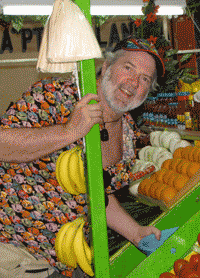 I began 2009 in fine fashion by visiting my sister and brother-in-law for two weeks at their wonderful casa in Los Barrilles, Mexico. The town is about 90 miles north of Cabo San Lucas, on the Baja. Sherry and Pete were wonderful hosts, and showed me all the local sights, many of them accessed via their four-wheel ATVs. Talk about a blast!
My 'excuse' for getting away to Mexico was to create some time to work on a new book on which I am the co-author. I was able to write for a few hours each day, adding my insight and adaptation to a transcript written by my octogenarian friend and neighbor, Jack Lessinger.
Jack, Professor Emeritus from the University of Washington, is a well-known author of several books on socio-economics. I couldn't be more impressed with his grasp of what is actually going on in the U.S. economy, all backed by statistics he's compiled since the U.S. Census began in 1790.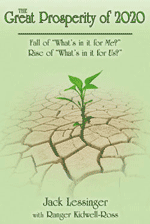 I was flattered he invited me to be co-author on his latest work, which we are now in the process of promoting to the world. If you're interested, you can download the first chapter as a pdf file using this link. The entire book is for sale at Amazon.com.
In other areas of writing, I was the recipient of two more national Apex Awards, thus extending my annual winning streak to an unprecedented 14 straight years. One award was for my own WorldSweeper.com website, and the other award was for a website I designed for one of my sweeping contractor clients.
I've also been having fun playing music with Ken Pickard and Zydeco Explosion, which has matured into one of the area's premier cajun/zydeco bands. We've had the opportunity to play some exceptional venues, and I never tire of the energy we generate in our audiences. Once we get going, audience members find it all but impossible to remain seated in their chairs, and the dance floors fill up quickly.
Although I occasionally play drum kit if our regular drummer can't make it, my signature instrument is my unique 'rub bear' scratch board. It's distinctive appearance and musical functionality are always a crowd-pleaser.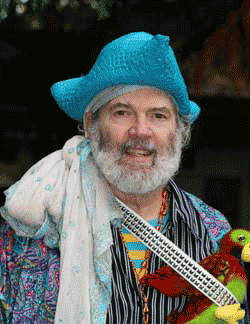 This summer, my annual It's-Not-My-Birthday party was held in September on International Talk Like a Pirate Day. Not surprisingly, it centered around the theme of pirates. A full third of the 300+ attendees came dressed in pirate-ish regalia, some surprisingly authentic. We hung mini-posters containing the 'official' pirate-speak glossary in conspicuous locales around the property, and soon the air was filled with many the "Arrrrrrr" and "Avast!"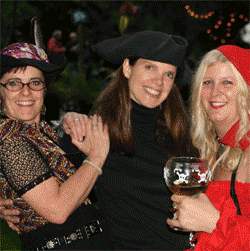 My favorite party moment came during the hand-holding, remembrance circle that always takes place near dusk. This year, as people around the circle remembered someone who'd passed on in the previous year, the usual chorus of "OMs" was replaced with a resounding "AAAAaaaaaargghhh!" from hundreds of throats. What a sendoff, eh?! To see some of the pirate party pictures, and read more about the event click here.
Next year's party theme will be the 1960s, in honor of my upcoming entrance into the 6th decade of life here on earth. The event is tentatively planned for June the 5th, two days after my birthday. No doubt it will be the most colorful Rangerville party I've ever hosted, so you'll want to make sure to attend. True to form, Belinda encourages y'all to bring your cameras! (At least it's a harmless obsession.)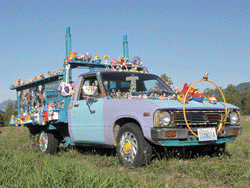 Perhaps the most ongoing fun of 2009 came about via the evolution of TOYNOTA, the art truck I created mostly during last year's winter and spring. By the end of the summer, it even got tricked-out with the 'aquarium smokestacks' you see in the photo. They are now equipped to bubble continuously, with the fish inside bobbing up and down so realistically that many people ask if they are real. At night, the tubes are illuminated, as is the large toy airplane on the hood of the truck.
This year TOYNOTA journeyed to a number of public events, including the 4th of July Samish Island Parade (where someone took the ending picture of Belinda and me), and Seattle's Fremont Fair, where at times you couldn't even see the truck because there were so many people crowded around it. TOYNOTA also made an appearance in the kid's area at the Anacortes Arts Festival, and a similar event in Everett, as well as an unannounced appearance at the Pumpkin Hurling Festival in Burlington, two friends' wedding receptions and another friend's anniversary party.
I initially created TOYNOTA as a way to spread a little cheer in these tough times. I must say I didn't foresee all the fun that occurs when I actually drive it. Belinda and I agree we get more smiles to the gallon than anybody else on wheels. It'll be interesting to see what gets added for next year's season...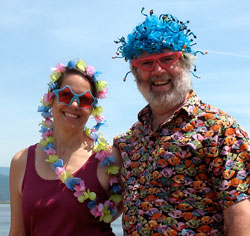 There was plenty more going on during this past year, but those are some of the more notable highlights. I feel continually blessed with all that we have, and the rural lifestyle we're able to enjoy, given the very tough times many are experiencing. Although there's been a bit of downturn to my business, I'm fortunate to be internet-based. I'm sure glad I'm no longer churning out a printed magazine, with its related expenses.
We hope this missive finds you all healthy, happy, and blessed throughout the coming New Year! We always love hearing from you, so don't hesitate to drop a line.
Love,
The Rangerville Clan
May the entirety of the new year bring you peace, joy and fulfillment!