Welcome to the
Rangerville 2015 Calendar Page
You're invited to download and print any 2015 Rangerville calendars.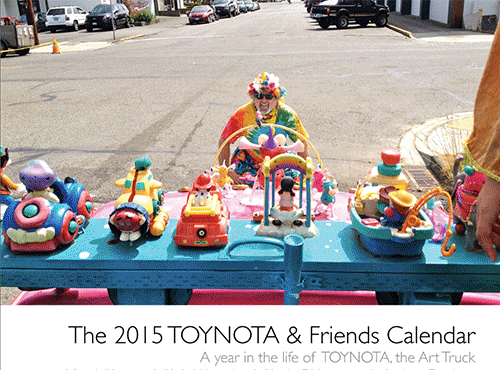 Over the last several months I received a number of requests to do a Rangerville and/or a Toynota calendar for 2015. I know it's last minute for Christmas, but there's plenty of time until New Year's, right?!
I wish I could send each and every one of you one of the 2015 Toynota & Friends and/or Rangerville & Friends Calendars. Alas, that's simply not possible. However, I thought the next best thing would be to make it as easy as I could for my friends to be able to print one or more for themselves.
First, take a look at whatever one you might be interested in, below. The Rangerville+Friends and Toynota+Friends are self-explanatory. I also made myself a calendar that's mostly of photos with friends taken this past year, in order to be able to remember later some of the fun I had in 2014. However, if we're personal friends then you may find yourself in that one; I wish you were all in it!
Finally, if you live in the Bellingham area I hope you've had a chance to see that wacky group of musical friends known as Critical Mass Marching Band (critical mass is usually a minimum of two horns – with 'critical mass,' we march!) You can see the kind of fun we have on the pages of 2015. If you're in the area and interested in joining CCMB, let me know.
In addition to the photos, this year's calendar has many non-standard holidays. More info on any of these wacky holidays may be found at this link to the HolidayInsights.com website.
If you want to see what each calendar is composed of, then click on the cover graphic to access the file on your browser. Each of the PDFs should open into a new browser window unless you have your computer set to download PDF files. If the latter, just open in Acrobat once downloaded. Farther down the page is a detailed explanation of how to print your calendar pages so they come out right, or how to easily get the file to a copy shop for printing there. Hope you enjoy the images!
Check out the calendars:
Note: Unless your preferences are set to download PDF files, the links will show you the calendar pages in your browser. If that's the case, you'll have to use your browser's 'download' button to download the pdf to your hard drive.

Calendar images are not copyrighted for personal use. However, the images are © 2014 by Ranger Kidwell-Ross, or by the other photographers involved, and may not be used for commercial applications without prior written approval.
Printing Calendars at a Copy/Print Shop:
If you want to have a calendar printed at one of your local color photocopy/print shops, you can either:
• Burn file to a CD or load the file onto a USB drive to take to a print shop

• Alternatively, provide the copy shop with the download link to this page or to the PDF file (the URL below each cover image). If you send them to this page, be sure to tell them which calendar you want printed. Note that having the 'days of the week' pages in black & white probably will save some printing bucks without much loss of anything even there is a genuine holiday listed for every day of the year.
Printing Calendars at Home
You'll find that if you print onto paper from 24# to card stock that the photos will probably look just fine. Do not use photo paper, since you won't be able to print onto the non-photo side of it successfully.
Remember: Print in landscape mode, not portrait! The calendar pages also need to be printed so that opposite sides are upside down from each other (like a calendar, natch). That way, when the calendar is put together it will read correctly; i.e., when you lift up the month of January from the bottom edge, the February photo on the opposite side will be right side up. Note that the hole for hanging will end up at the bottom of the cover and all the calendar month pages, but at the top of the all the photo pages.
Printing Tips: Print the odd pages first (there's a setting in your printer dialog that allows this). This will be the cover plus the 'days of the month' pages. In addition, it's much easier to keep the pages in the correct order. Then, making sure the pages are in the right order, print the even-numbered pages onto the back sides. For most printers, the setting for the second run-through is to print all even numbered pages in reverse order.
Also, nothing prints on the back of the month of December. To print the second side, put the sheets you printed the months onto back into your printer such that the top of the days of the month pages will end up being upside down from the photos on the back of each page. (Look at a calendar on your wall if you wonder what this means...)
If you don't already know which way to put your paper back in, do a back/front set of test pages first. Also, keep track of which order the pages print in, so you'll know when printing the second sides whether to print in normal order, or reverse order (with most printers you don't have to sort if you choose 'reverse print' to do both sides). The calendar is set up so page two is on the back of page one, etc. However, if you get it wrong it doesn't really matter all that much which month backs up onto which photo, right?
Note that it only costs about $3 to have a calendar bound and a hole for hanging punched in it at most copy places, including Office Depot, Kinkos and Office Max. Alternatively, you can use your own hole punch and then ribbon or twist ties to hold the two halves together.
If you have questions (or any of the links aren't working correctly, etc.), feel free to give me a call at 360-739-7323, or send an email to ranger@rangerville.com.
Cheers,
Ranger