Hiya, Everyone
Well, what with trying to write my way across Europe for the americansweeper.com website, along with a lack of Internet Cafe access, I haven't been able to send out emails to friends and family about my trip. Soooo, I decided the thing to do was to write something about what I've been up to and put it here on the rangerville.com website.
I started out by flying into England's Heathrow airport. If you want to know more about the flight, which included an amazing view of a seemingly neverending sunset that eventually turned into a sunrise over Greenland on one side of the plane, and a continual full moon on the other. I left Seattle at about 7pm on Saturday and ended up in London at noon on Sunday.
Heathrow and the streets we transited on during the 2-hour trip to the home of my hosts, Malcolm and Wendy, was all I ended up seeing of London. They live a couple hours north in an area called the Cotswolds, in a house built in 1634. It's in a very small village of the same vintage. I even met a few hale and hearty people in the area that seemed of the same relative age as the structures.
Malcolm and I took off early the next morning for an equipment trade show in Aviemore, Scotland. Because I'd never before visited the land of my heritage, that was probably the highlight of my trip so far. Ever the good host, Malcolm took the long route around the lochs of Lomond and Ness and through the famous pass of Glencoe. Although it added 4 hours to our normal 8-hour travel time, the route was almost all on narrow, two-lane roads twisting through beautiful country.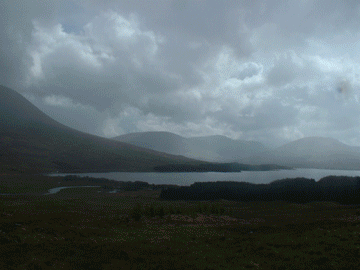 Although Malcolm was clearly an expert driver in his sporty Peugeot, I found it continually disconcerting to be whizzing around a sharp corner in the left hand lane. He also provided a running commentary, in amazing detail, on the history and legends of the area. He also kept coming up with a number of phrases I termed 'Malcolmisms' and put onto the website. For example, he couldn't enter the roadway for a long while when we left Loch Lomond after lunch. After several minutes of there not being quite enough room to launch back into traffic, he said "heads on them like mice!" English, especially when coming from an Aussie, can be quite a colorful language.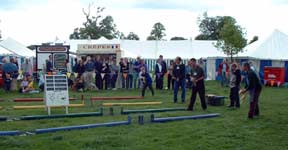 Then, instead of going in to London on the weekend after coming back from Scotland, which is what I'd planned, Malcolm took me on some sightseeing drives and to interesting events in his area. Saturday we went to a crafts fair at Blenheim castle, where I sat in on my zydeco rubboard tie with a Dixieland jazz quartet that, amazingly, had a member who'd just returned the week before from a sightseeing trip to New Orleans and other points. I also saw my first-ever ferret race. A bit reminiscent of a chicken-drop contest, in terms of onlooker participation, but with more movement by the animals.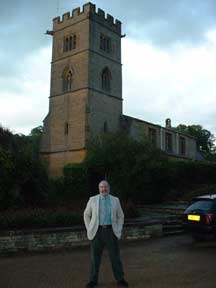 That evening, I fulfilled my 'obligation' to take Malcolm and Wendy out to dinner at a 'nice place,' which I was asked to do by Schwarze's CFO, Robbin. After they asked around of the landed locals of their acquaintance, we ended up at a manor house which had been first noted by the Abbey in an astounding 600 AD.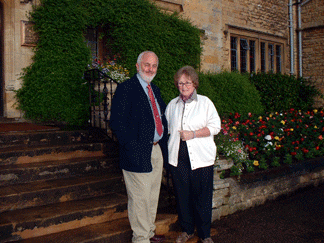 The current manor house, which dated back only to the 1600s, was quite elegant and the food was good, however I found the service somewhat officious for my American social palate. You know how we have trouble 'getting' British humor? Well, I bet the people who run Buckhorn Manor do, too. Coat and tie were definitely required, and our dinner for 3 totaled about $400.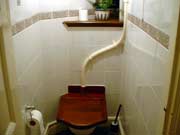 It had wonderful furnishings and I'm sure you'll agree that the toilet was really outstanding. If I only had a farthing for every butt that's sat on it through the years... A story of our dinner, along with some history of Buckhorn Manor but not the picture of the commode, is or soon will be online at the americansweeper.com website.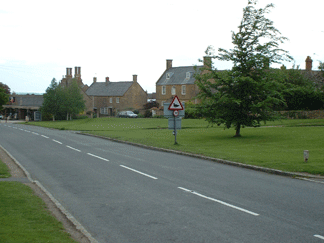 Next day, Sunday, I propped myself comfortably up in bed in the morning and tried to get up-to-date with my stories. At one point, the nearby church's pull-bell choir concert came wafting in my open window from scarcely a block away. In contrast to a hand-bell choir, this one used, as instruments, much larger bells located in the bell tower that were operated by pull ropes. The moment was so magical, especially during the few minutes it was interspersed with the clop-clop of horse's hoofs coming from the lane below, that it defies description. I wish I could somehow share the reality of it all with you.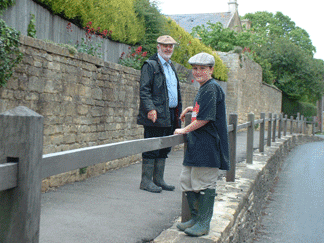 In the afternoon, Malcolm took me on a hike through the rolling hills so as to see the different structures in the village. This included two churches, the one where the bell choir was held and another that had finally become electrified only last year. The structures are quite involved for the times they were constructed, but there's one in each little village in England, I suspect. It was a wonderful sightseeing tour, even though I was then forced to write into the wee hours and couldn't end my day until I'd posted the latest batch of stories at 1:30am. Then we had to get up only 2 hours later for the drive to the Bristol airport, my gateway into Germany.
When I arrived at Hamburg airport, via a stopover to change planes in Amsterdam, an agent had a sniffer dog on the runway from the plane to the terminal. I was picked up by a taxi sent by the sweeper manufacturer, Hako. I was scheduled to interview them later in the morning. This pickup was complicated somewhat by the driver's lack of English whatsoever and the fact my suitcase didn't arrive with me. I managed to communicate the problem with him enough that he was still there when I'd filled out the necessary paperwork. It was fun getting picked up by someone who was waiting for me and holding up one of those signs.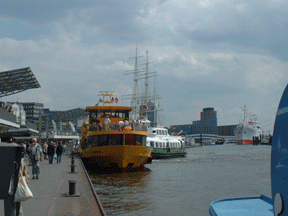 I only stayed in Hamburg overnight. Losing the suitcase was a stroke of luck, as it turned out, since the airport delivered it to my hotel. Since I didn't even have a hotel when I was at the airport, it turned out much easier. It even arrived at the hotel 5 minutes after I did, so the clerk lugged it up the two flights of winding stairs instead of me doing it. Next day, I took the train a couple of stops to spend time along the Elbe River and walking the surrounding neighborhood.
In the afternoon, I picked up the rental car, which was an experience in language frustration. I had received an upgrade on the rental by arranging it in the states before I left. I think I also got another upgrade in Hamburg when I rented it, because when she read the paperwork she said "it says you qualify for upgrade." The upshot was we ended up with a black, 6-speed Mercedes wagon with only a couple thousand kilometers on it. It's a perfect ride, since between Leela's stuff and mine (she's also a Gemini, so we're really packing for 4...) we could almost use a trailer. And, it's very sporty, fun to drive and has a great stereo with CD. We both brought along CDs from home for added tunes, although mostly I've been listening to local radio. Seems extremely odd to listen to the oldies, which are always somewhere on the dial, and have the in-between songs chatter be in a foreign language.
After picking Leela up at the airport the other night I got the car up to 200 kilometers an hour on the autobahn outside of Hamburg while she filmed some of the sunset on the dv camera. When she got here, it was on a 9pm flight rather than the expected 5:45. That made us way late getting to where she had to be the next morning, Gileleje, which is north of Copenhagen where the land ends and the water starts. It's about an hour's drive in daylight when you know where you're going and how to get there. That wasn't us.
Speaking for myself, the driver, I'm just glad we didn't hit any of the numerous deer hanging out near their signs. Even though I'd had little sleep the night before (or on any other night so far, for that matter), I had no trouble staying awake. What the map showed as main roads were windycurvynarrow, though with surprisingly good asphalt for such a snow country.
The folks at Leela's seminar were to put out an envelope with her cabin number and roommate names, as well as directions to the place they'd reserved for me to sleep. When we arrived at 2:30am, no such item was in evidence although some sort of family party where most were wearing tuxes or equivalent was winding down. That part seemed odd on a Tuesday night/Wednesday morning.
The upshot was that we had to try sleeping in the car through necessity. Fortunately, the seats fold all the way down and it was halfway comfortable. The real problem with car sleeping up this far north is the lack of darkness. Sunset is around 11pm, and it starts getting daylight about 4am. Since the weather has been uniformly nice since leaving Scotland, the car starts to heat up too early for my tastes. Glad to find that out early in the trip. Tonight I plan to blend in with cars parked at the dock area. Leela brought a sun screen for the front and side windows, and these are a great camouflage assist.
If you'd like to keep going, click here. Otherwise, see you later!
©Copyright 2003 Ranger Kidwell-Ross