Percussion -- My Favorite Diversion From 'Normal' Reality!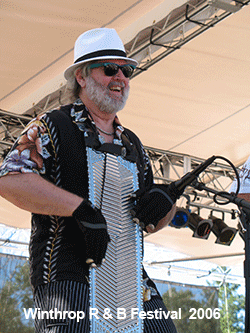 As is my recommendation for many of life's activities, I think reading this page goes better with music. If you have your speakers on and your web browser supports music, I suggest you click on the triangle or here (and then on the player that will appear), which will play music by one band I regularly perform with, Ken Pickard and Zydeco Explosion. We're playing our version of 'Something's Cookin' in the Kitchen.' (Remember that you'll need to turn the music back off if you choose to view any of the videos further down the page.)
Far back in the annals of human antiquity, someone hit a hollow log with a stick -- then hit it again with a new understanding -- and percussion was born. In my own life, it was my older brother and sister's involvement with music that at an early age brought me the realization that playing an instrument offered something special.
Before I was old enough to go to school, my brother Don, seventeen years my senior, was in a Dixieland jazz band called The Saints. Once in awhile, I even got to be there when they practiced, which took place in the living room of the big house the band all shared on Capital Hill. Most of them were also students at the University of Washington.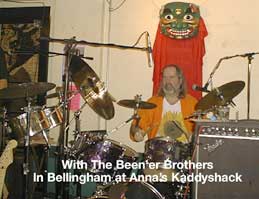 I'd guess I was about six when my Mother finally relented and took me to see The Saints play at what I now know was their steady gig, a Seattle club called the Blue Banjo. Before she held me up to a grimy side window, one that was off to the side so we wouldn't be conspicuous, she wiped the street haze off with the sleeve of her coat. Then, when she picked me up so I could peer in, what I saw lit a spark that still burns brightly a half century later.
It was the start of the band's set, and my disbelieving eyes saw all the guys dressed up in their Gay '90s outfits walking down the top of the bar while playing, what else, The Saints Go Marching In! Though my big brother definitely caught my eye first -- and not just because he was herding his enormous standup bass with him down the bar-top -- I was also mesmerized by the sound of the snare's rhythm being played by the drummer. I somehow knew the band was marching to the drummer's beat. From that moment on, I think, I knew that had to be my instrument someday.
---
Care to See Some Video Clips?

This first one is the night that Gypsy Lou and I headlined at the 2nd World Music Festival, in Nakhon Sawan, Thailand in February of 2007. It will play directly from Vimeo when you click on the arrow. It's about 20 minutes long, though...


Gypsy Lou & Ranger at 2nd World Music Festival, Thailand, 2.15.2007





Here's another video from YouTube, playing with Zydeco Explosion at the Louisianathon held in the Pacific NW in 2009. It's just a single song.





For the rest these, you'll need Windows Media Viewer, or a similar program, to watch them. After viewing any of the clips, just hit your browser's 'back' button to get back here.
---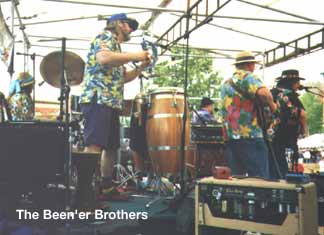 I went to the "one-room-fits-six-grades" Hunter's Prairie School until junior high. And, although I credit the experience as one of the most valuable of my life, Mrs. Haerlen didn't offer anything like a music program. Although I wasn't looking forward to going off to the big junior high school five miles away in Elma, seventh grade did mark my first opportunity to take band class. I had looked forward to that prospect for, literally, years. I had long yearned for the time when I could finally start being a drummer.
I already had my own drumsticks, a pair of 2B parade drum sticks given to me by my sister's band director when I was in first grade. This was back when my Mom was raising us by herself, and she sometimes had to work late at her bookkeeping job. If it was pep band practice night, I got to tag along with my sis, Sherry, who was twleve years my senior. One night, no doubt tired of my squirming while he was trying to teach, the band director gave me a pair of sticks (for keeps!) and invited me to go use them on the undersides of the distant gym bleachers. Six years later, I still had the sticks in my closet, waiting for the time I could use them on a real snare drum.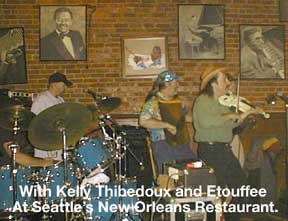 On the first day of class, the seventh grade band instructor went around the room asking all of us newbies what instrument we were there to play. Even though I didn't need any more time to think about it, I ended up being the last one he came to. Amazingly, in answer to the question I had been waiting so long to answer, I said: "Saxophone."
To this day, I don't really know why. I hauled that sax back and forth on the school bus for two weeks, though, and even practiced like I was supposed to. Then, I went into class early one day and asked if I could trade in the sax for a drum practice pad. I brought my sticks with me, for reenforcement as I pleaded my case. If only he'd turned me down, I wouldn't have spent three decades packing a drum kit in and out of cars and a variety of places where music was happening that day, night or week. Looking back on that part of drumming, I'd recommend taking up a flute or a harmonica!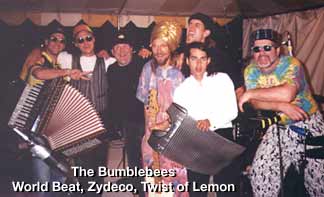 Still, I wouldn't go back. I'm proud that at one time or the other, of all the instruments, only drumming has been officially banned by over 200 bona fide countries. That's because of the organizing power the drum is able to bestow. Plus, Besides, there's no other instrument that's always by your side; as I see it, the world is made of percussive objects waiting to be mated in new tonal and rhythmic relationships. One of the most memorable rhythmic events I've led personally actually involved no drums at all, and it was definitely a night of percussive power.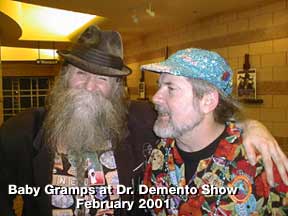 It was back in 1976, I believe, at the July 4th Rainbow Family gathering in Alpine, Arizona. Those who arrived after dark were asked to stay in kind of a holding area meadow to camp out until morning. Nearby was a large wooden corral where the communal fire was burning. There were probably about 150 people in and about the corral. We'd been listening all evening to a succession of acoustic guitar singer/players.
It was probably going on midnight when I stepped into the firelight and invited everyone to participate in a game of rhythm. Just at the prospect you could feel the group energy as it shifted. There was a few minute break while people scattered in search of something they could use as their 'drum.' People used whatever they could scrounge out of what they had with them, cups and pans and other paraphernalia. There were plenty of sticks and tapping-sized rocks scattered about the area to use as beaters.
I offered a few sample rhythms and a quick overview of 'less is more' syncopation theory, and had everyone count off into fives. Then, section by section, off we all went. By calling out a number, one through five, different player segments could be added or taken out. This gave us the ability to include an alternate level of dynamics. Leaders soon emerged in each group to call their players into and out of the fray. The percussive magic flowed under the stars and into the late-rising moonlight, lasting almost until dawn.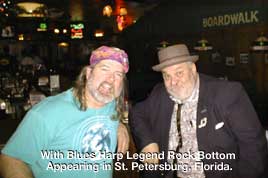 I still enjoy playing a drum kit, although in the last few years I've been moving more toward unusual, non-standard instruments. My current favorite 'trap set,' which is a term that arose from the 'contraptions' put together by black musicians during the beginnings of the jazz era, involves a snare drum, hi-hat cymbal and a suitcase for a bass drum. A surprising number of notes can spring from the combination.
Another mainstay has become the zydeco 'scratchboard,' indispensable for the music that comes from around the bayou country. The board provides what is, to me, an opportunity to delve to the very essence of a song. Although standard fare for cajun music, the instrument's is basic enough to traverse from rock to bluegrass to zydeco to world beat to rockabilly and more.
A well-played scratchboard can become the foundation on which the melodic current rides. Basic, primal -- and let's not forget eminently portable. For me, it's been my ticket onstage with some extremely fine players, including Tab Benoit, Jude Taylor, Kelly Thibedoux and Etouffee, Rock Bottom, Jr. Cadillac, The Clumsy Lovers, The Bumblebees and many more. I've now played some form of the instrument in Australia and over a dozen countries throughout Europe and Asia.
Or, for something completely different, try this clip from the Poor Man's Jug Band filmed at the historic Lincoln Theatre in Mt. Vernon, Washington... We play a variety of 'old timey' music with instrumentation of musical saw, gut-bucket bass, washboard and guitar/vocals.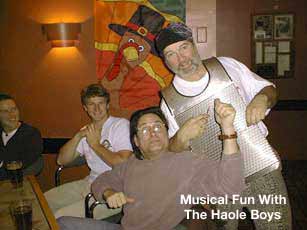 My current and recent 'musical main squeezes' include Ken Pickard and Zydeco Explosion, Gypsy Lou Band, Been'er Brothers and Poor Man's Jug Band.
Although I've always been glad my perseverence with the business world kept it from being my fulltime profession, my 'other life' as a drummer and percussionist has allowed me to hang around what I believe are the finest people in the world, and by that I mean musicians. In my experience, if there's a thread that can bring life into balance, it's the playing of music. Fortunately for me, there's little music that isn't made better by at least a bit of percussion, wouldn't you agree?
| | |
| --- | --- |
| | Even though he was my inspiration, my brother Don and I only performed together a few times before he succumbed to Leukemia in 2008. One such is pictured here, which was the event celebrating the move of his architectural firm onto Seattle's Capital Hill. |