---
TOYNOTA the Art Truck
See more up-to-date pics & info at the TOYNOTA Facebook page.
---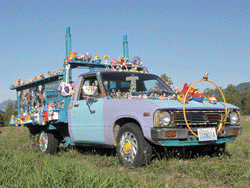 In 2009 came the evolution of TOYNOTA, the art truck. By the end of the summer, it even got tricked-out with the 'aquarium smokestacks' you see in the photo. They are now equipped to bubble continuously, with the fish inside bobbing up and down so realistically that many people ask if they are real. At night, the tubes are illuminated, as is the large toy airplane on the hood of the truck.
In 2009, TOYNOTA journeyed to a number of public events, including the 4th of July Samish Island Parade and Seattle's Fremont Fair, where at times you couldn't even see the truck because there were so many people crowded around it. TOYNOTA also made an appearance in the kid's area at the Anacortes Arts Festival, and a similar event in Everett, as well as an unannounced appearance at the Pumpkin Hurling Festival in Burlington, two friends' wedding receptions and another friend's anniversary party.
Here's a link if you'd like to see a photo slideshow that features all sides of Toynota, and which also includes close-up shots of some of the toy groupings on it.
---
Download the free 2015 Toynota Calendar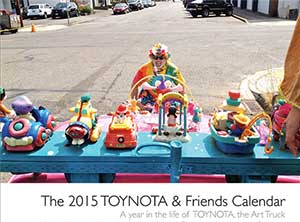 Click on the calendar cover to go to the 2015 Rangerville Calendar page. There you'll see directions for printing, as well as a download link for the 2015 Toynota Calendar. You can also download a free Rangerville & Friends Calendar at that link.
---

Check out
September 2012 article in Skagit Valley Herald (includes two video clips)
---


The 3rd Annual Great Peninsula Future Festival was a weekend of entertainment coupled with a learning experience. Toynota was definitely a hit with folks young and old. Plus, there was vaudeville-type entertainment all weekend by the New Old Time Chautauqua. You'll definitely want to take a look.

---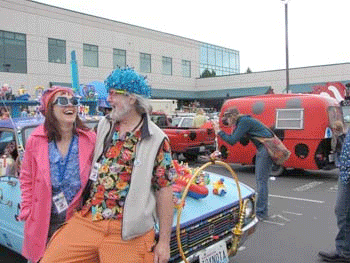 As usual, the 'Seattle Art Car Blow Out' (SACBO) at the Fremont Fair was phenomenal in 2010. You'll want to check out the event coverage, which includes photos and videos. Especially fun are the videos of the Sunday morning 'doughnut jousting!' Some say, my very own Bugs Bunny was the winner...

---
If you have any questions about TOYNOTA, just let me know via email.