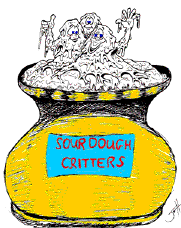 Readers Vow That The Following Recipes Taste Terrific!
---
Sourdough English Muffins
For great muffins, combine and set out at room temperature 8 hours or overnight:
1/2 C. starter
1 C. milk
2 C. flour
Then add:
1/2 C. flour
1 T. sugar
3/4 tsp. salt
1/2 tsp. soda
Knead on floured board 2-3 mins. until not sticky. (Add up to another 1/4 C. flour if needed.)
Roll dough to 1/2 - 3/4" thick on a board sprinkled with cornmeal (flip so both sides get cornmealed) and cut muffins with 3" cutter or tuna can. Cover with a cloth or waxed paper, set aside in a warm place to rise 45 mins. Bake on lightly greased griddle over medium heat, 8-10 minutes per side.
---
Have a favorite recipe of your own? Let me know, and I'll post it here!
---

Back To Introduction Page


To Pancake Recipe Page


To Waffle Recipe Page


To Bread Recipes Page

---
&copy 1999-2003 Ranger Kidwell-Ross
This page has been accessed times.